Coronavirus and your mortgage
25th March 2020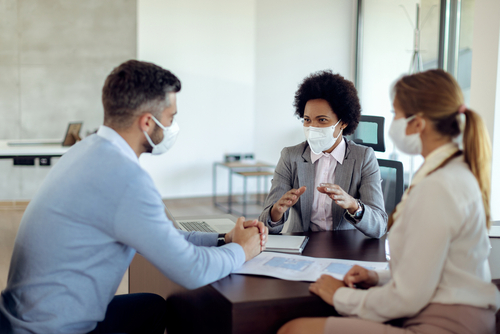 The impact of the coronavirus on your mortgage
We are now a few days into officially being on lockdown and naturally people are concerned about their jobs and homes, which I hope this will help to alleviate.
As you will know, the Bank of England recently dropped the base rate from 0.75% to 0.25% and then again to 0.1%, with talk of dropping this further still to 0%.
Just to remind you, the last time the base rate was as low as 0.25% was in August 2016, so the government has already gone lower than this.
So, what impact does this have on you and your mortgage?
Fixed rate mortgages: Your interest rate is fixed for a period of time (usually between 2-5 years), so your monthly repayments will remain the same.
Standard variable rate (SVR) and tracker mortgages: Both products track the Bank of England base rate, so your monthly repayments will decrease. However, as interest rates have been historically low for some time now, most people are on a fixed rate deal and those who are on the SVR, is generally because they can't switch to a new rate or are stuck in their current deal (otherwise known as mortgage prisoners), due to one of the following reasons:
Can't afford the loan amount on paper
Have credit arrears, so don't meet any lenders' criteria
Are too old to extend their mortgage term
What help is available?
The government have announced a 3 month payment holiday, which could be a huge help if you are self-employed and currently out of work or on reduced pay. But, if you want to do this, you MUST ask your lender if it will affect your credit rating and be marked down as 3 missed payments on your credit report.
Why? 3 missed mortgage payments on your credit report would probably put you in the mortgage prisoners category for at least 12-18 months. So, if your fixed deal is due to expire during this time, you would struggle to get a new deal or have to pay a much higher interest rate, putting you in a far worse financial position than you are now.
For example, if you had a £200,000 mortgage over 25 years at 1.5%, that would cost you roughly £803 per month. If we then had to move you to a specialist lender which allowed 3 missed mortgage payments in the last 12-18 months and the rate was 5%, your payments would increase by a further £379, bringing your new monthly repayment to £1,182.
The good news is, most lenders have advised they won't register the 3-month payment holiday as being missed on your credit report. However, if and when you do speak to your mortgage lender, I would strongly recommend that you confirm this with them by asking, 'will my payment holiday go down as a missed payment?'. The answer you are looking for is NO.
Is it a good time to apply for a 3-month mortgage holiday?
If you are fortunate enough to still be working, then in theory there is no need to take it. You're not going out, travelling abroad or in most cases commuting work, so you should in essence have excess money each month. Even those on Furlough Leave (workers who have been sent home by their employers with no work, but still receive 80% of their salary from the government), should still be able to afford their payments.
So, why?
The main reason is that the 3 month mortgage payment holiday isn't just going to disappear. Most lenders will look to re-jig your mortgage after this period, so it still finishes at the end of the agreed term, which means your mortgage payments will also increase slightly.
For example, if you have a £200,000 mortgage over 25 years at 2.6% interest and request a 3 month payment holiday, your repayments will increase from £907 a month to £920 for the rest of the term, assuming you have already been paying your mortgage for 2 years.
The other reason is banks are businesses and can't keep extending payment holidays for everyone. So, I would advise holding off for as long as you can, before you take up this option and only use it when you absolutely need to, as we don't know how long this is going to last.
Are there any other options?
With the Bank of England base rate dropping, lenders will potentially lower their fixed deals. So, if you are coming to the end of a fixed deal, it's certainly worth looking at potentially switching to a new product. Especially, to help with any of the following:
Consolidating your debts: Consolidating these into your mortgage is a great to reduce your monthly outgoings. But, if you do decide to do this, please speak to a Mortgage Advisor first, as not all credit is worth paying off. For example, putting a 12-month loan onto a 25-year mortgage means you'll probably end up paying more interest
Releasing equity from your home: With rates so low, taking out an additional £5,000 - £10,000 won't have a massive effect on your monthly payments
Extending the mortgage term or switching to an Interest Only mortgage to reduce your repayments.
Either way, seeking expert advice before applying is strongly recommended.
How to apply for a 3-month mortgage holiday
I would firstly recommend speaking to your Mortgage Advisor in the first instance to ask for their advice. If you don't have one, but want some free advice we're excellent by the way - just read our reviews! If you then decide a 3-month mortgage holiday is the right thing to do then contact your lender, details of which can be found below or view the latest guidance here.
What changes are lenders making?
Lenders are making changes daily and as of 25th March, 2020 some of the biggest changes we are seeing are as follows:
Criteria: Products for those with defaults, CCJs, arrears etc. who would have been offered a mortgage last week, are now being pulled and are therefore no longer available
Affordability: The use of overtime, commissions and bonuses, which would normally be used to assess how much you could borrow, are no longer being taken into consideration, which will ultimately reduce the amount you can borrow.
Self-employed: A few lenders have stopped lending to self-employed applicants altogether.
My three bits of advice
Hold back on taking the 3-month payment holiday until you absolutely need it
If you are self-employed, try securing a deal now. You don't know how much your accounts will be affected by the coronavirus, so when you need to remortgage and your income isn't as high as previous years, you'll struggle to prove you can afford it, resulting in you ending up on the lenders SVR, which could be 3-4% higher than the fixed deal you were on
Seek expert advice. Getting an outside opinion from someone who isn't emotionally involved will help you to make the right decision. At CLS Money are advice is completely free, so please feel free to contact us on 01268 931611 and speak to one of the team, who are all working from home.
And last of all, a HUGE thank you to all the NHS who are working tirelessly to help us get through this!
Clayton Shipton
Managing Director